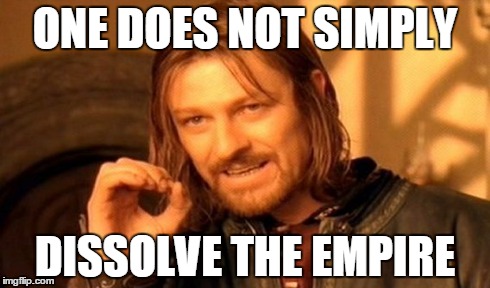 When your empire has commitments to four protectorates in the Pacific Rim (viz. the Republic of China, Japan, the Republic of Korea, and the Philippines), dissolving or even reducing those imperial commitments is no simple matter. It requires much negotiation, especially in the face of another imperial power to the west that threatens with its œconomic clout, backed by its military might, to exploit those lands surrounding it and make a joke of their sovereignty. Even as far away as Africa, we see what it does; how much more will it do close to home? The American empire, however unpleasant, is what we have, and changing the current arrangement takes much more care than simply withdrawing in the space of five years. Change has to be incremental, and must itself be modest to avoid destroying the peace of the whole region.
In spite of my distrust of the Japanese nationalist right wing, in order for the United States to pursue a more modest foreign policy, I call for the rearmament of Japan. Rarely has a nation gone 70 years without responsibility for its own defence, and today's abnormal continuation of a once-expedient constitutional arrangement has virtually forced us to play the guarantor to Japan's sovereignty. For such a large nation with such a large œconomy to take no military part in maintaining its own sovereignty, so many years after the Second World War, is an aberration as inexpedient for us as it is degrading for that nation. If it must defend its own interests, as every nation must, let it build up a capable army and navy, and let us depart.
For the other three protectorates, the situation is more complex. Each has its own armed forces, but none can maintain its own interests without the backing of the Americans. The Republic of China on Taiwan, at least, needs to strengthen its forces, both in ships and in home defence. It is hard to say what measures the three protectorates would need to defend their interests against aggression from the Chinese mainland. Nevertheless, the United States should be resolved to find ways to reduce its military commitment and help these protectorates establish their own defence.